Handgun Looped Cleaning Brushes - 3 Nylons - KPT02N
* 3 looped nylon brushes in specific calibers
* 1 Portable plastic tube
Pack in plastic tube with hanger.
Calibres of brushes to be specified by you.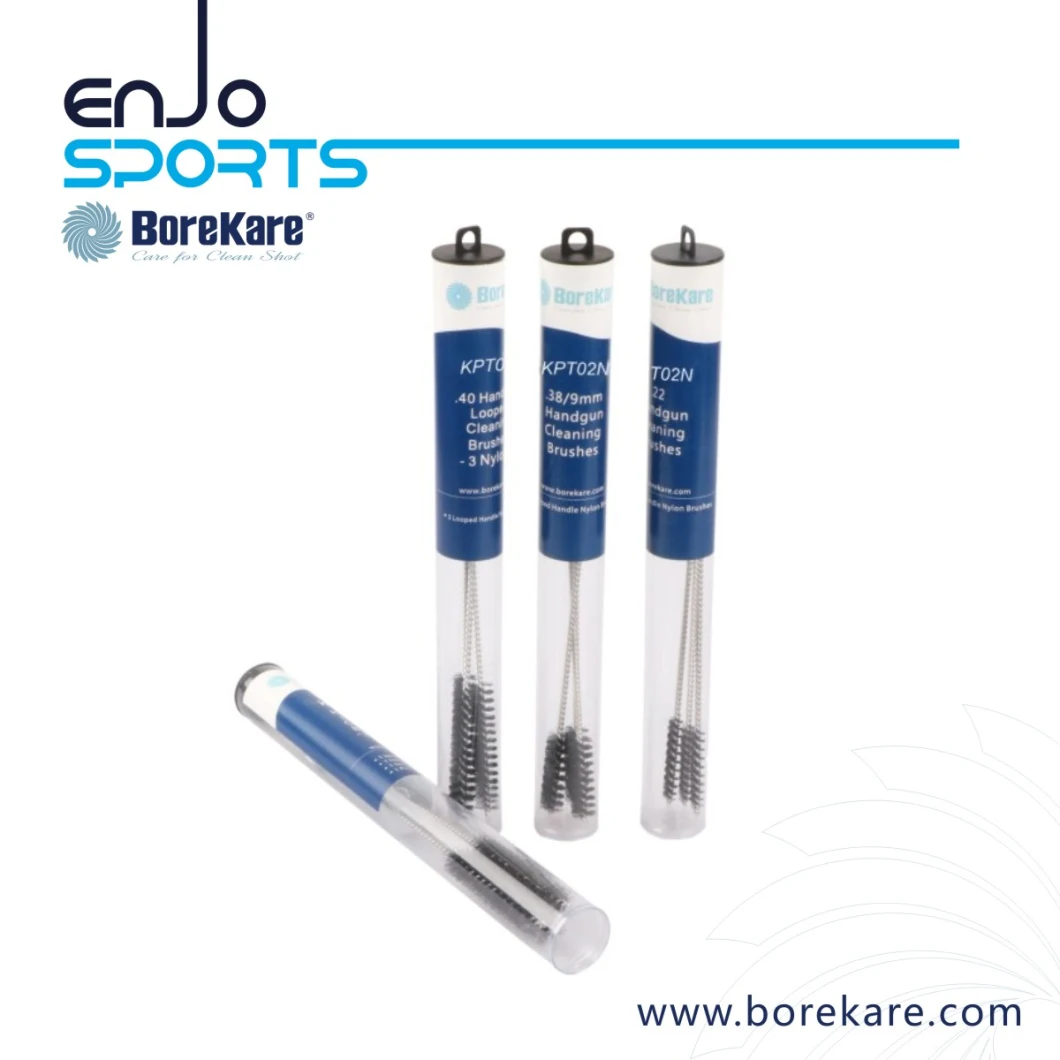 WHY BoreKare:
Strong R&D Capability: Our experienced team of designers and engineers work closely with veteran shooters and huntersthus able to launch new gun cleaning/care products in short interval that fit for your specific needs either afield or at a gun-smith.
All Round Service: We provide OEM, ODM, and OBM service. BoreKare carries great variety of cleaning kits for your selection, and customization projects are highly welcome. We are experienced working with famous brand names on joint-development projects. Manufacture against sample provided, or development basing on your idea is what we're skilled at.
Great Product Variety: We offer complete range of cleaning kits, rod sets, brushes, and accessories, covering kits for rifle, handgun, shotgun, and AR-rifles. Our essential accessories include rope cleaners, phosphor bronze bore brushes, chamber brushes, cotton mops, spiral brushes, nylon brushes, hog-bristle brushes, jag tips either of nylon or brass, slotted tips, cleaning patches, utility brushes, all kinds of cleaning rods, bore-guide, etc. Our great assortment of essential accessories lends adaptability for you to develop your tailor-made cleaning kits.
Premium Quality at Affordable Cost: BoreKare hold on to strict standard right from the very start of selecting raw materials like the phosphor bronze threads, braided cotton threads, etc. Looks simple, non-high-tech products though, the core items of gun cleaning products, i.e. the brushes, mops, and/or rope cleaners, calls for over 10 working procedures normally, before it becomes a semi-finished products to fit in a cleaning kit or other sets. And BoreKare infill our passion and rigor in every steps of the procedure, so as to produce the essential accessories at high quality.
Professional Customer Service& Quick Response: BoreKare team are experienced professionals with over decades of international business practice. We well understand business etiquette and cultural/conventional difference between countries/cultures. And all our associates speak fluent English so you can easily communicate with us without ambiguity. Your inquiries will be swiftly responded within 12 hours in working day.
Company Profile
BoreKare is a business division of Enjo Sports Inc, dedicated to providing customers the best suitable products that improve shooter/hunter experience and boost customer profitability. Our business doctrine is to assist our customers to expand in their market so as to have a mutually beneficial cooperation.
We carry complete range of gun cleaning and care products, and export to customers all over the world, with our major market in North America, Europe, Oceania, and Asia. We're experienced working closely with the big names in the industry and join hands with our customers in developing products that boost their sales and elevate our customers' profitability.
Our R&D designers and engineers have multiple years of design expertise, that customization projects are highly welcome besides our existing models.
Q&A
Q: Can you provide samples?
A:Yes, we are happy to provide customers samples for checking the quality.
Q: What is the products' minimum order quantity ?
A:Minimum order quantity may vary by customers special requirement, we try our best to meet your business requirement.
Q: Do you offer OEM or ODM service?
A:Yes, OEM or ODM service are welcome.
Q: What payment methods do you support?
A:We usual support L/C or TT as our payment methods. If you want to use other payment methods, please let us know your idea.
Enjo Sports Inc
Web: enjosports.en.made-in-china.com
Tele: +86(763)-3368 759 Fax: 86(763)-3662 759
Add: #17-19, FL. 5, Building 5, No.25 Jingfu Rd., Qingyuan, Guangdong, 511518 China